Professional Development Week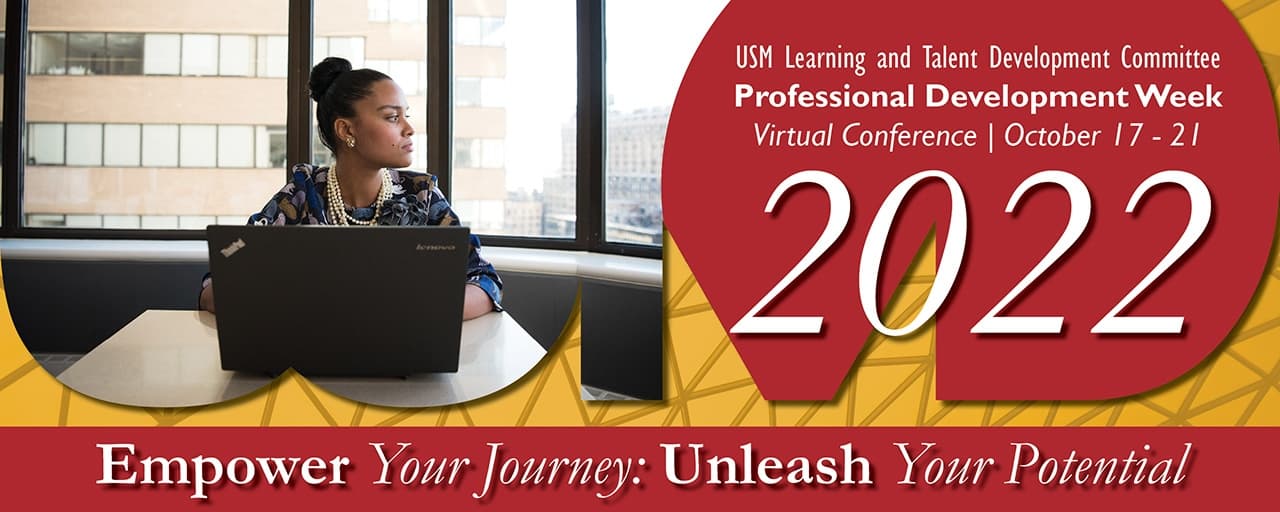 Are you ready to invest in your career in higher education? Whether you're new and looking to forge your path, mid-career and looking to inject some energy, or staring down retirement and considering your legacy, there's something for you at the USM Learning and Talent Development Committee's annual, virtual, week-long conference. Features inspiring panels, engaging workshops, and networking with your colleagues across the system.
Location
The USM Training Committee, a group of talent development professionals representing each USM school, is thrilled to bring back the system-wide, completely virtual, free-for-all employee Professional Development Week (PD week). PD week is a knowledge-building week for USM faculty and staff. The conference workshops are designed to broaden and advance the employee's professional and personal well-being. Throughout the week, you will have the opportunity to network with other USM employees. This is a one-of-its-kind event; register to reserve your seat next to other higher education professionals.

USM training and development professionals and leaders will facilitate sessions to:
Broaden perspectives on various topics to leverage knowledge, skills, and abilities
Acquire competencies to advance work performance and productivity
Engage in diverse conversations to handle the transitioning workplace
Registration instructions:
October 17th and 21st events require separate registration via Zoom to participate. Please note that there is limited registration which is noted for each event. If you do not already have access to Zoom at your institution, please download it before your session here.
October 18 - 21 event registration is being handled via Hopin, a virtual conference platform requiring creating a user account (if you have attended one of our previous events, use your previous login). Once you register via Hopin, during those three dates of the conference, you will be able to attend as many or as few of the workshops without any additional registration (and you can add them to your calendar by clicking on the calendar icon next to each breakout session).
To create your Hopin account, select your university under "Tickets" and scroll down to "Checkout." A new window will open; scroll down to click on "Sign-up with email" to finalize your registration.
Contact
Hosted By
Event Tags
Audience