Farmer to Farmer: The Agricultural Volunteer Opportunity Program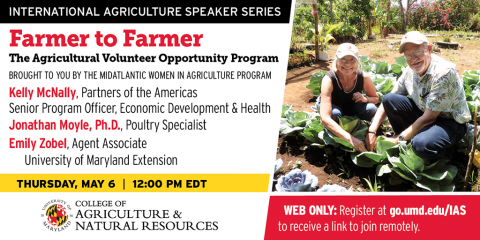 When:
Thursday, May 6, 2021
12:00 PM
-
1:00 PM
Description:
Join the College of Agriculture & Natural Resources for the next International Agriculture and Extension Lecture Series on Thursday, May 6 at Noon. Featuring Kelly McNally (Partners of the Americas) and University of Maryland Extension representatives, Jonathan Moyle and Emily Zobel. Brought to you by the Mid-Atlantic Women in Agriculture Program.
Topical Areas:
Open to Public, Community Engagement, Free, Health and Wellness, Diversity and Inclusion, Multicultural, College of Agriculture and Natural Resources, Students, Faculty and Staff